Top Restaurants in Delhi
DELHI has a great number of restaurants serving its varied clientele. People from all over the world visit India, for all kinds of intents and purposes. Tourists are looking for the best of places to wine and dine at. The choices everyone has are astounding. Every restaurant has something unique and special which they are offering to the customers. The residents of the city are always on the lookout for something new and exciting. Some restaurants in Delhi have stood the test of time and are running successfully despite the brutal competition in the F&B industry. Here is a curate list of the top 10 restaurants in Delhi for all budgets: -

1. ANILA HOTEL: situated in a lush green surrounding in Naraina Vihar, this hotel has a wonderful terrace restaurant called Hichkee. This rooftop restaurant in Delhi serves various International cuisines and has highly experienced chefs cooking sumptuous dishes for you. It is an amazing feeling to have a lovely meal under the stars with your friends and family. The staff is extremely courteous and the service is great. And despite the serene ambiance and delicious food, the prices at this restaurant won't hurt your pocket. So do drop in and experience one of the best rooftop outdoor open air restaurants in Delhi.

2. Bukhara, Diplomatic Enclave: Got some extra cash to splash? Bukhara has a number of awards to its name, including being voted "Best Indian Restaurant in the World" and "Best Restaurant in Asia". Located at the luxury ITC Maurya Sheraton hotel, this restaurant is renowned for its rustic atmosphere, open kitchen, juicy kebabs, and huge naan bread.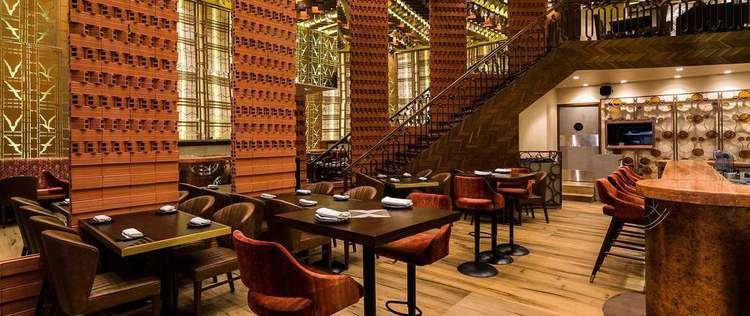 3. Veda, Connaught Place: Perfect for a romantic dinner, Veda is one restaurant that will really grab your attention. The interiors were crafted by Rohit Bal, an acclaimed Indian fashion designer, and everything shines and shimmers. There are candles, mirrors, chandeliers adorning the restaurant and an embellished glass dome is set against a backdrop of deep red velvet curtains and exposed brickwork. They serve Indian cuisine with a contemporary twist, and also offer a special tasting menu that has small portions of a selection of items. The restaurant boasts an impressive wine list also.

4. Parikrama - The Revolving Restaurant, Connaught Place: For a sweeping 360-degree bird's eye view of the city, dine at India's highest revolving restaurant (and the only one in the Delhi), 240-feet up on the 24th floor. You'll be able to spot many famous landmarks such as the Red Fort, Jama Masjid, and Rashtrapati Bhavan. One revolution lasts around 90 minutes, around the length of one hearty meal. The 25th floor features a lounge bar. Their main focus is on North Indian cuisine but also on the menu are Chinese and Continental cuisines.

5. Chor Bizaare, Intersection of Old and New Delhi: Rohit Khattar opened this restaurant at his family's Broadway Hotel to display his assorted collection of discarded vintage household items. It definitely creates an interesting dining experience. To give Delhi a break from ever-present butter chicken, the restaurant serves cuisine from India's northern Kashmir region.

6. Moti Mahal, Dariya Ganj: No doubt you've heard of and are probably a fan of Butter Chicken. After all, it's a worldwide famous dish. This restaurant is credited with inventing the dish! The restaurant has been standing since independent India. Its decor is noticeably nostalgic and the walls are lined with awards.

7. Karim's, Old Delhi: Karim Hotel was established in its current location in 1913 and is now into its fourth generation of management. The restaurant is modest but it serves up low-priced Mughlai-style food, including a brain curry that will keep daring eaters happy.

8. Gulati, Pandara Road: Gulati has been in business since 1959 and is one of the legendary restaurants of Pandara Road. Although it started out as a modest dhaba. The restaurant has a daily lunch buffet with alluring choice of dishes. Special food festivals like Kabab festival are also held here. The kebabs come highly recommended and you can order a kebab platter to get a variety of different types.

9. Kwality, Connaught Place: For some of the best channa (chole) bhatura in Delhi, Kwality is the place to go. This restaurant claims theirs is world famous! It's been their signature dish since 1947, and they prepare it in a traditional way overnight using a secret blend of spices. It is a budget restaurant and the prices are very nominal.